RECEPTION: WEDNESDAY, MARCH 25, 5-7pm, AIMM Lobby
RELATED TALK: FRIDAY, MARCH 27, 12:30-1:30 in AIMM 125
Henry Heredia, Cuban Institute for Cultural Research Juan Marinello
The Department of Art and Art History, in conjunction with The Center for the Arts and the Center for Global Engagement of The College of New Jersey, presents Remixing Revolution: Contemporary Culture in Cuba, an exhibition of student work created in connection with the study-abroad course, "Landmarks: The Art and Culture of Cuba" [AAH262].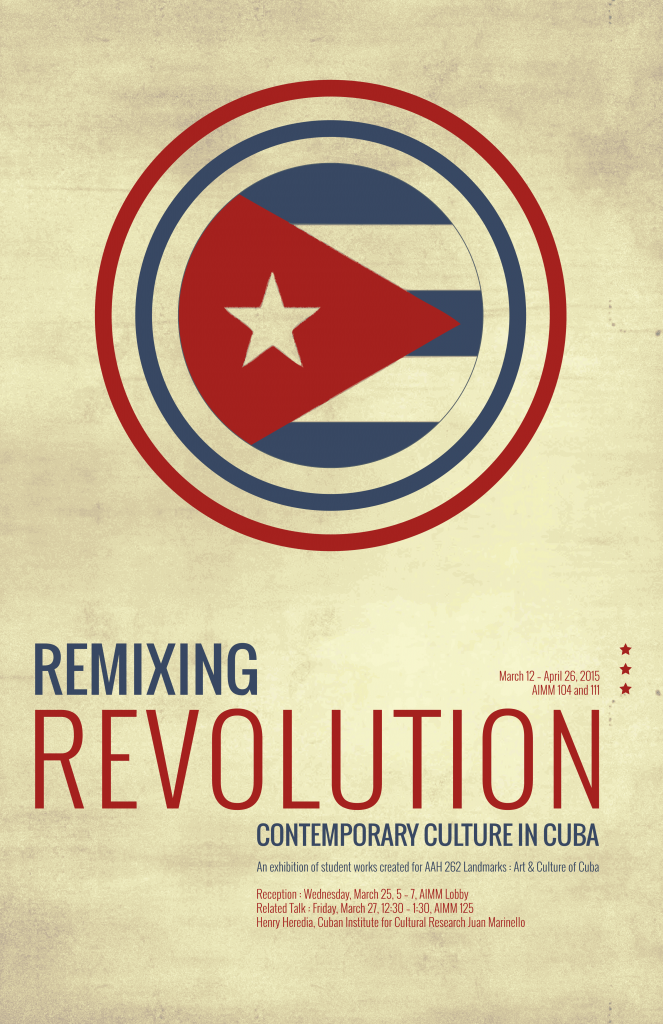 Through lens-based art, installation, bookmaking, and curatorial projects, students celebrate the visual and material culture of contemporary Cuba, reflect on themes of identity and cultural patrimony, and examine the ideas, ideals, and dis-illusionments that comprise Cuba's revolutionary legacy. Remixing Revolution: Contemporary Culture in Cuba is titled to reflect the paradox of a nation at once static and dynamic, a people whose connection to the past resounds in their vision for the future.
March 25 — April 26, 2015
Gallery Hours: Tuesday, Wednesday, and Thursday 12:00-7:00 p.m. Sunday 1:00-3:00 p.m.