Exhibition Announcement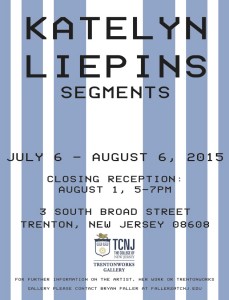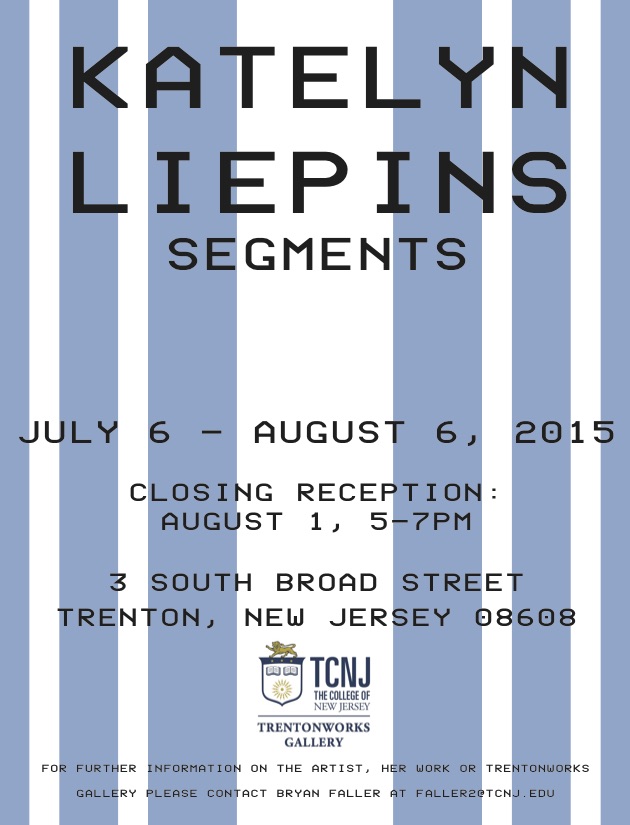 Segments
Katelyn Liepins Solo Exhibition
July 6 – August 6, 2015
Closing Reception: August 1, 5-7PM
TrentonWorks Gallery
3 South Broad Street
Trenton, NJ 08608
Artist Katelyn Liepins transforms the TrentonWorks Gallery space in her solo exhibition titled, "Segments". This exhibition includes an interactive maze as well as eye-catching designs made from nothing but tape. She wants the viewer to change the way they not only think about what a drawing can be and how it can exist in multiple forms, but also how they view a given space. The relationship between the wall and the floor, the sharp corners, and the unexpected structures of the space are all things she takes into consideration when creating an installation. She wants you to notice things you typically wouldn't look at. The architecture becomes the art.
Katelyn currently lives in Bordentown, New Jersey and is a recent graduate from The College of New Jersey with her B.A. in Art Education with a minor in Psychology. She has been working with lines and how they can exist beyond the traditional drawing form for the past few years. Coming from a family of architects, she is attracted to the sharp crisp lines within a space and uses them consistently within her art. Beyond installations, Katelyn is also experimenting with video and performance art dealing with the body and it's relationship to the audience.
www.katelynliepins.com
katelynliepins@gmail.com
Visitor Information
The TrentonWorks Gallery is open during the Summer of 2015 from Monday – Thursday, 12:00 PM – 2:00 PM. Admission is free and open to the general public. TrentonWorks Gallery is located in downtown Trenton, on 3 South Broad Street. From TCNJ main campus, take NJ Transit bus #601 to the corner of South Broad and East State Street. Parking is available in the nearby Trenton Parking Authority garage on East Front Street, between South Broad Street and Warren Street. For Information, contact the TCNJ Center for Community Engaged Learning and Research, 609-771-2548, deihlv@tcnj.edu.
Notes to Editors
• To arrange an interview or obtain more information, contact Bryan Faller, Director of TrentonWorks Gallery,faller2@tcnj.edu.