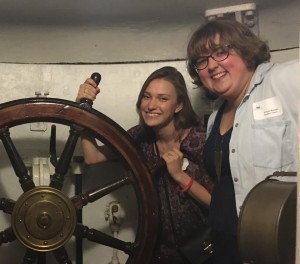 By Emily Vogel and Kristina Robold
Kristina Robold and Emily Vogel, both seniors in the Department of Art and Art History, are spending their summer collaborating with Professor Elizabeth Mackie as part of the 2016 Mentored Undergraduate Summer Experience (MUSE) Program. During the first half of their MUSE research, the trio created a video, sculpture, and sound installation on Cruiser Olympia at Penn's Landing in Philadelphia as part of the newly opened exhibit, Artship Olympia.
Artship Olympia, curated by Philadelphia Sculptors, features sixteen site-specific art installations on Cruiser Olympia's interior and exterior decks. This temporary art gallery highlights each artist's personal interpretation of the vessel while giving voice and vision to the ship's history, stories, and culture. The exhibit will be open through October 2, 2016.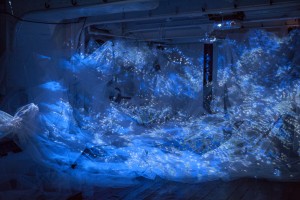 Mackie, an interdisciplinary artist, envisioned creating an interactive mediated environment in a space that was once lined with hammocks for sleeping sailors to rock to the rhythm of the ship moving through waves. SHE-SEA, a meditation on the mythology of the ocean as a feminine force, takes the form of roiling waves of netting, overlaid with projections of dresses, water, and hair, accompanied by Siren-like audio.
Vogel and Robold worked on and off the ship for three weeks with Mackie testing sound, projecting images, and installing fabric.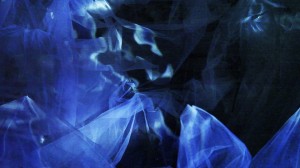 "It was an intensive process assembling the netting with the given space on the ship," recalls Vogel.
One of the many challenges faced while working on Olympia was that as a National Historic Landmark ship, nothing could be permanently altered, which meant that each wave of netting had to be carefully stitched and tied to the hooks where sailors' hammocks had been hung. The technical aspect of hanging three projectors without nails was a challenge faced by Robold, who devised a system to hang the projector using plywood secured with clamps.
The netting, overlaid with images of water and dresses created movement throughout the piece. For the projections, Robold and Mackie filmed hair and the surface of the Delaware River, while Vogel, garbed in a collection of dresses, twirled for the cameras.
The team partnered with Brooklyn-based sound artist Kaitlyn Paston to record audio underwater in TCNJ's Packer Hall swimming pool. Paston and Vogel swam laps with an underwater camera, blew bubbles, and sang a range of pitches under the pool surface to create a Siren-like audio track.
Robold also served as photographer for the exhibition catalogue, and with the assistance of Vogel, photographed the exhibition for various web and print media outlets.
The Artship Olympia exhibition opened with a large celebration on Friday, June 24, 2016 with over 350 people in attendance.