Exciting news!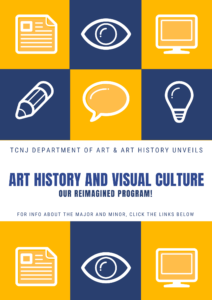 TCNJ's Art History program has a new name … The Department of Art and Art History is excited to unveil the reimagined Art History and Visual Culture program!
The field of Art History has moved to embrace a diverse range of methodologies applied to many types of visual and material culture.
Increasingly, the preeminence of a Western art historical canon, or any canon, is being questioned. Issue-based or problem-solving based courses now complement more traditional courses surveying the art of a particular historical period or geographic region.
At TCNJ, our new approach to Art History is inclusive and interdisciplinary, and will continue to grow as we commit to incorporating previously under-represented artists and cultures into our curriculum.
---
Learn more about the major and minor requirements in the links below.
Art History and Visual Culture major:
https://art.tcnj.edu/academics/ba-majors/art-history-visual-culture/
Art History and Visual Culture minor:
https://art.tcnj.edu/academics/minors/art-history-visual-culture-minor/