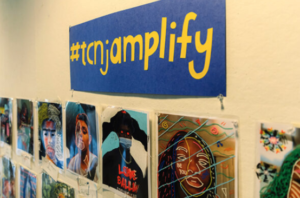 The (not so) lazy days of summer at TCNJ are underway with MUSE! The eight-week Mentored Undergraduate Summer Experience gives students the opportunity to conduct research or engage in creative activity in collaboration with TCNJ faculty members in all academic disciplines.
This summer, we have 120 students and 58 faculty working on 55 projects. Below, we're highlighting the work of our faculty in the Art and Art History Department!
PROJECT: Amplifying Local Teen Voices through A Collaborative Photography Exhibition
FACULTY: Anita Allyn and Carolina Blatt, Art and Art History
STUDENTS: Julianna DiMeola '22 and Julia Pfaar '23
SNAPSHOT: With a goal of producing large-scale public artwork to be displayed on campus during the fall 2021 semester, this program provides local teens with access to art studio resources they may otherwise not have had during the pandemic or because of systemic educational inequities.
PALETTE: Fourteen local students participate in a week-long studio workshop in issue-based art. Students are encouraged to use art-making as a tool for grappling with their personal experiences with social justice. "In doing so, they might generate new skills for using the arts as a constructive means to amplify their visions and voices," says Blatt. The project goals are to understand the impact the activity has on participants' self-awareness, self-management, social awareness, relationships skills, and responsible decision-making — also known as social emotional learning competencies — and to pinpoint effective ways to use art to help build these important life skills.
THE MASTERPIECE: The exhibition, which features an installation in the windows on the first and second floor of the Art and Interactive Multimedia Building, will open in September in conjunction with the gallery retrospective of retiring photography professor Ken Kaplowitz.
Check back next week to see more musings from the MUSE program!