Elizabeth Mackie will be exhibiting 6 works, Ortler Kettles #1-6, completed during three  MUSE programs with the assistance of student collaborators, Kelsey Long and Matthew Pembleton, 2011; Amanda Intili and Jessica Hargwood, 2015 and Emily Vogel and Kristina Robold, 2016.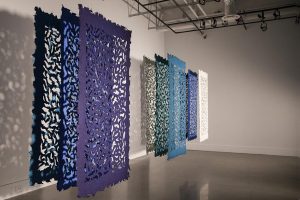 Elizabeth Mackie | Ortler Kettles #3, #4, #5 | Produced during MUSE 2016 with student collaborators Emily Vogel and Kristina Robold
Philadelphia Art Alliance
January 26 to April 30, 2017
Opening Reception: January 26th 251 South 18th Street | Philadelphia, PA
Artists: Elizabeth Mackie, Sun Young Kang, Dawn Kramlich, and Susan White with a soundscape by Kaitlyn Paston
The four artists of Paperscapes explore the possibilities of paper as a medium that straddles the divide between the analog past of print and our current digital age. Using a mixture of traditional and experimental techniques, these artists create immersive environments that challenge our traditional understanding of paper as simply a vehicle for the printed word. Incorporating light, shadow, sound, and texture, the works of Paperscapes respond to the architectural setting of the Art Alliance, transforming its turn-of-the-century domestic interior into an otherworldly space.