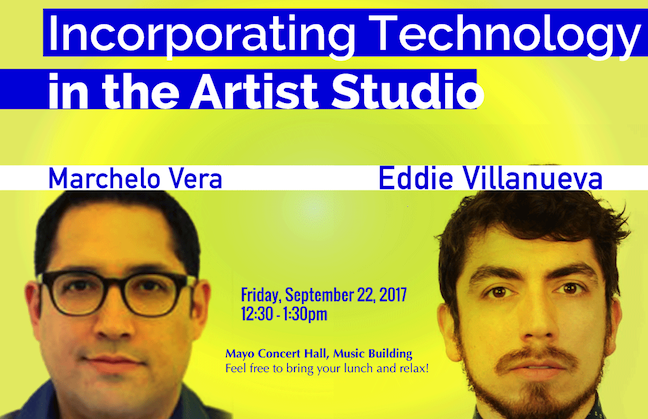 TCNJ Brown Bag Lecture: "Incorporating Technology in the Artist Studio"
Department of Art and Art History Professors Marchelo Vera & Eddie Villanueva.
Fri., September 22, 2017; 12:30 – 1:30pm
Mildred & Ernest E. Mayo Concert Hall, Music Building
Speaker Bios:
Marchelo Vera is an internationally based Puerto Rican-American visual artist, educator, and designer. He received his BFA and MFA from Rochester Institute of Technology.
His professional experience includes working on global brands, identities, and publishing projects for New York City based fashion houses and world leading media companies including Armani Exchange, Simplicity Creative Group, Hearst, Meredith, and Bonnier.
As a technologist, he contributes to the evolving dialogue of printmaking through his independent and collaborative print media projects and interactive public installations. His concepts and interests explore the convergence of traditional works on paper with more contemporary and interdisciplinary methods that utilize photography, video, and sound. His specialization includes non-toxic printmaking techniques and alternative CMYK photopolymer processes.
Vera describes his work as a reflection of his interests in the synthesis of media, history, and technology. His research topics include urban sociology, gentrification, and Asian studies. He is a recent recipient of fellowships from China Education Association for International Exchange and Council on International Exchange.
His artworks have been exhibited nationally and internationally including Los Angeles, New York City, South Korea, Bulgaria, Japan, France, Scotland and Switzerland.
His passion for culture and world history has led him to participate in fellowships and art exchanges across the Philippines, Japan, Taiwan, South Korea, China, Cuba and Kenya.
Eddie Villanueva's work operates within an expanded field of inquiry into socially and culturally sanctioned versions of a hetero-normative masculinity. He is interested in the ways by which male identity manifests itself both publically and privately. How gender is performed and how a chasm between the personal experience and the cultural creation and sanctioning of gender identity can lead to a sense of double consciousness or personal rift within one's sense of self. Subjects addressed in his work include emotional vulnerability, violence, control, sexuality, legacy, social hierarchies, and childhood development. He explores the formation of his own gender identity by mining his personal history as a collection of events, experiences, thoughts, and lessons. Through self exploration, he presents points of reflection for the largely hidden phenomenological reality of the secret lives of men.
Eddie Villanueva (b.1983, Milwaukee, WI) received his B.F.A. from the University of Wisconsin-Milwaukee and an M.F.A. from the University of Wisconsin-Madison. His work has been featured at the SCOPE Art Fair, Miami, and in Global Positioning System at the School of Visual Arts, New York, the North American Graduate Art Survey at the Katherine E. Nash Gallery, Minneapolis, and the Wisconsin Triennial at the Madison Museum of Contemporary Art. He received a Joan Mitchell Foundation MFA Grant in 2012, and a Mary L. Nohl Emerging Artist Fellowship in 2013. He has taught at UW-Madison, UW-Milwaukee, UW-Richland, and Brown University.
Note: This event is free and open to the public. Feel free to bring your lunch and relax!
Visitor Parking information is available at: http://parking.tcnj.edu/resources/visitors-guests/