Opening Reception Wednesday, November 1st, 5:00 PM – 7:00 PM
Student Exhibitions by Seniors:
Danielle Deering, Jonathan Dix, Melina Magriples, Yesenia Rosado, and Jenna Shargay
Art and Interactive Multimedia Building Student Galleries AIMM 111, AIMM 118, and AIMM 119
November 1st through November 19th, 2017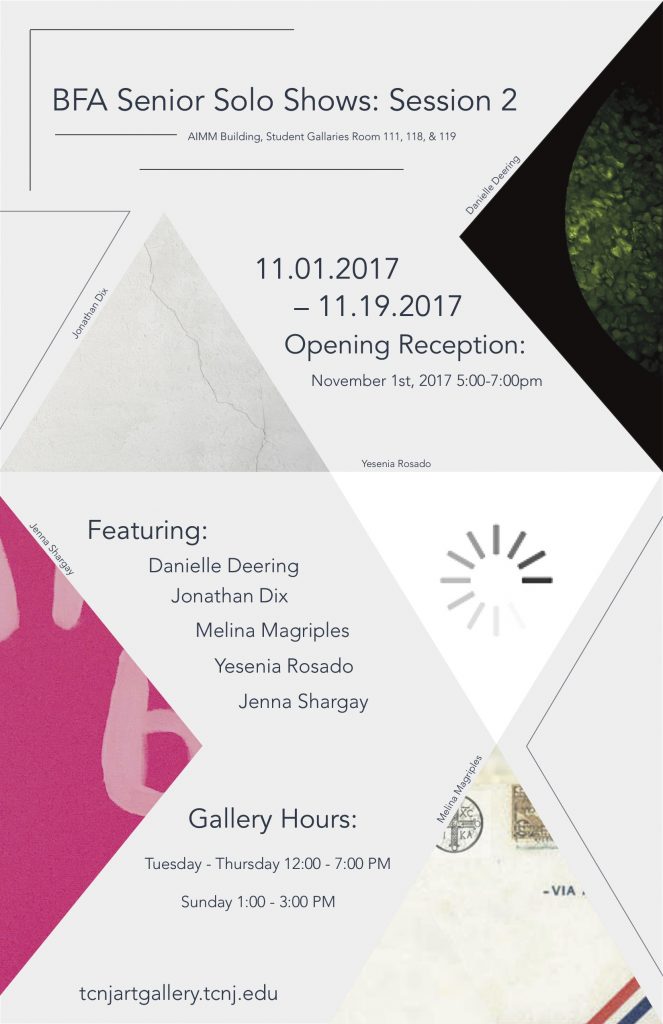 TCNJ Art Gallery –Senior BFA students are pleased to announce today that session two of the senior solo shows will take place in the Art and Interactive Multimedia Building side galleries (AIMM 111, AIMM 118, and AIMM 119). These five students have been exploring their own interests and mediums throughout their years at TCNJ and are excited to exhibit their artwork in a gallery setting.
DANIELLE DEERING explores the intricacies of the natural world through the lens of a microscope. Utilizing distortive techniques, her photography transforms the mundane into something completely alien and otherworldly. These works evoke a sense of wonder and invite the examination of life from a more intimate perspective.
JONATHAN DIX is interested in the idea of pushing boundaries. In this body of work he is questioning the notion of what architecture can be represented as. His work is primarily installation and sculpture based, though these mediums he is taking the physical idea of a wall and representing it as an art object. The works have begun to question the dichotomy of objectivity and architecture as a whole.
MELINA MAGRIPLES focuses on the grief and loss that she has experienced herself and through other people in the past year. Her work serves as a sort of art therapy through painting and through a prayer project that involves the people in her life. It is important for viewers to know that this show serves as a memorial as well, for those who passed suddenly, and ultimately who inspired this show. She also brings a very prominent part of her life, her Greek Orthodox religion, into the show, to create a conversation about the struggle between faith in God and earthly loss.
www.melinamagriples.com
YESENIA ROSADO exposes her generation's obsessive nature, immediate acceptance and fondness of modern global trends by pulling them into the Fine Art sphere. In this context she displaces the use value and exposes the mundanity of such trends through humor and text. Exploring her interest in the immateriality of digital space, Rosado creates independent paintings and installations to re-contextualize the world of social media and platforming, sharing the lens through which she views the physical world.
JENNA SHARGAY expresses the complexity of LGBTQ+ identities by focusing on her struggle of being bisexual in a cisheteronormative society. She uses text, and the repetition of it, to express the effect our society's ideals has had on her growth and exploration of her identity.
Gallery Hours: Tuesday – Thursday 12:00 – 7:00 PM and Sunday 1:00 – 3:00 PM
https://tcnjartgallery.tcnj.edu/