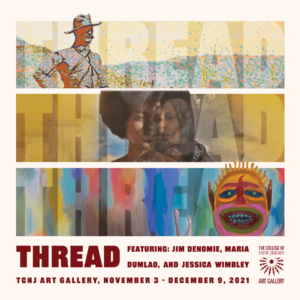 Join us for an artist's talk with Philadelphia-based artist Maria Dumlao. Dumlao will be speaking about her recent projects, including work that is part of the THREAD exhibition in the TCNJ Art Gallery.
Nov 3, 2021 07:00 PM
Register in advance for this webinar: http://ow.ly/Gmmv50GEww7 
---
Maria Dumlao works with combined media, including film, video, animation, sound, photography, embroidery and installation. Her work explores individual and collective history as mediated experience. Her work, History in RGB, combines images of history, popular culture, mythic folklore, landscapes, and creatures to propose alternatives to the systemic representations ordered by colonial narratives. Born in the Philippines, Maria immigrated to the US mainland, where she currently lives and works in the traditional territory of the Lenni-Lenape (Philadelphia area). She received a BA in Studio Art & Art History from Rutgers College and a MFA in Studio Art at Hunter College-CUNY.