Many students study abroad for a semester, a year, or through shorter faculty led programs. Faculty from the department are actively involved as leaders of art related programs. Some popular sites for our students are Australia, Cuba, England, France, Germany, Greece, Italy, New Zealand, and Spain. The college offers many other opportunities to choose form and works closely with students to make sure they have a successful and enriching experience.
Upcoming Study Abroad Trips
---
Landmarks: Art, Culture, and Identity in Spain
Lead by Dr. Lois Fichner-Rathus, Professor of Art History & Dr. Deborah Hutton, Associate Professor of Art History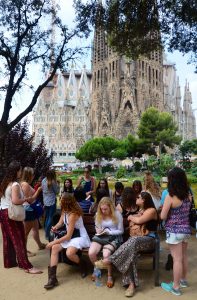 Landmarks: Spain is a 200-level course that contemplates the questions of Spanish identity through the lens of the arts. It is designed for students interested in learning about the customs, politics, history, and traditions of art and architecture in both what we might call "European
Spain" and "Islamic Spain," at the same time that we call those distinct categories into question. The course will focus on three regions of Spain that are often though of as having distinct cultural identities: Central Spain (Madrid, Segovia, Toledo), Andalusia (Seville, Cordoba, Granada), and Catalonia (Barcelona).
Students will study significant monuments, museum collections, and other cultural sites in these regions and cities as a way of exploring the question of Spanish identity: Do these regions share any commonalities in their visual culture? How has art and architecture been employed to negotiate and communicate identity? How have older monuments and artworks been appropriated to contribute to newer constructions of identity throughout Spanish history? And, finally, how does Spain's visual culture uphold or break down ideas about European and Muslim identities as being distinct from one another?
---
London: Art & Chemistry
Lead by Elizabeth Mackie, Associate Professor of Art and Dr. Lynn Bradley, Professor of Chemistry
Through the exploration of art practices and the basic principles of chemistry, students evaluate current and past practices in art and explore how art and science interface. Many topics are presented, from sculpture and dyes, to photography, textiles, stained glass and papermaking.   Lectures explaining chemical concepts and the properties of materials, as well as hands-on art projects have been integrated into the course.  Field trips to museums, galleries, sculpture gardens, public parks, churches, and other venues to view art in London are integral to the course.  Students will appreciate how science plays a role in creating art and how art may inspire scientific discovery…all in the shadow of Buckingham Palace!
The course also focuses on experiencing the cultural aspects of British life and history.  There will be plenty of free time during the evenings and on weekends to explore the city and surrounding areas, experience the wonderful cuisine, and to complete an art project focusing on London.  Some highlights of the trip include touring the Olympic Park and the Anish Kapoor sculpture, making hand-made paper at the historical Frogmore Paper Mill, exploring the art and culture of many markets in London, visiting Cass Sculpture Park in the south of England, touring Chichester (a small cathedral city with a Roman Wall), experiencing High Tea and London theatre, taking an overnight excursion to Bath (a new addition for 2017) and learning about the contributions of Henry Fox Talbot, the father of photography, at Lacock Village.