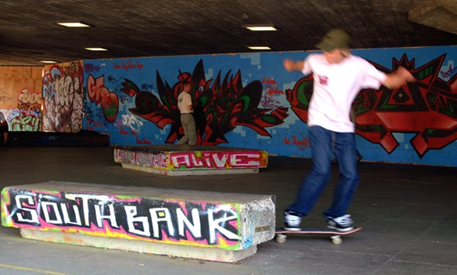 TCNJ School of the Arts and Communication invites you to participate in an upcoming workshop titled "Can Art Save a City?" led by international guest scholar Jennifer Hinves, Northumbria University, UK on Wednesday, November 18, 4:00PM – 5:20 PM, in AIMM 102. The workshop is open to students of all disciplines and levels. Space is limited, so please RSVP to artdept@tcnj.edu by Nov. 10! This workshop is co-sponsored by TCNJ Department of Art and Art History, Center for Global Engagement, and Northumbria University, a TCNJ exchange partner.
Can Art Save a City?
Jennifer Hinves, Northumbria University, UK
Wednesday, November 18, 2015
4:00PM – 5:20 PM, AIMM 102
Lecture & Workshop
The Role of 'Culture' in Regeneration
Creative Quarters
Creative Clustering
Open to all students; limited to 25 participants.
RSVP to artdept@tcnj.edu by Nov. 10.
"The fundamental question for the creative city project is: 'Can you change the way people and organisations think – and, if so, how?" (Landry 2000)
"… why do many regeneration projects invest in the arts, only to remove skateboarders and street artists from their public spaces, or supplant small independent shops to make way for new developments? It's a sort of cultural cleansing." (Havers 2012)
Jennifer Hinves is Senior Lecturer in Arts and Cultural Management at Northumbria University, Newcastle upon Tyne, England, where she leads the MA Cultural Management programs. Her work spans the cultural sector in several different countries including Australia, Russia, USA, Hong Kong and Japan, providing a strong practice-based approach to a critical understanding of the sector. Her ten-years as co-founder and director of a small cultural business provided a dynamic understanding of the Creative Industries, followed by working at Northumbria University developing a suite of innovative MAs in Cultural Management. In addition to her work at Northumbria, Hinves serves as a board member of the Swallows Foundation (https://www.swallowsfoundation.co.uk/), which facilitates cultural exchanges between the Eastern Cape of South Africa and the North of England. She is also a steering group member of Café Culture North east, promoting informal public engagement and participation in cultural debate and discussion, and What Next, the NewcastleGateshead chapter of the national arts campaign. Previously she served as served as trustee to Arts Research Digest and Helix Arts. Her recent book chapter "Policy meets Practice: a narrative approach" appears in Cultural Policy, Work, and Identity (edited by J. Paquette, Ashgate Publishing, 2012).